( click here to see the "mini lanyard" version of a 1AAA flashlight holder )
Mini flashlight holder - headlamp version
How to make a holder that can be used for fastening
a mini flashlight (size 1AAA) to the head when you want hands-free light,
- Quick to use (... from flashlight to headlamp in less than 5 sec.....)
- Compact in size, only adds a few millimeter to the flashlight thickness
- Low weight, easy to make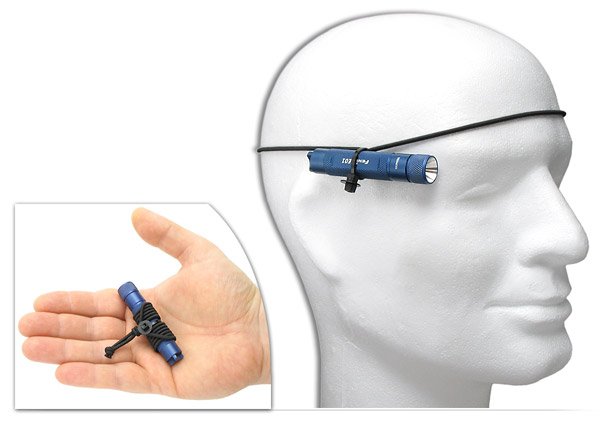 The flashlight can be positioned on the head in 2 ways:
- straight forward as shown above
- downwards as shown below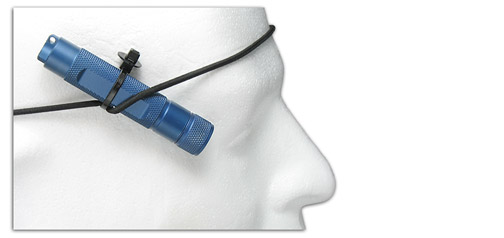 Can also be attached to different objects (size/diameter 10- 120 mm)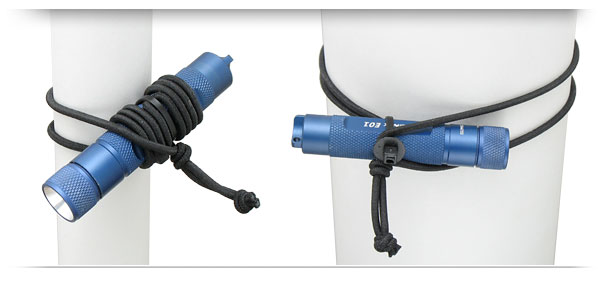 or hung like shown below.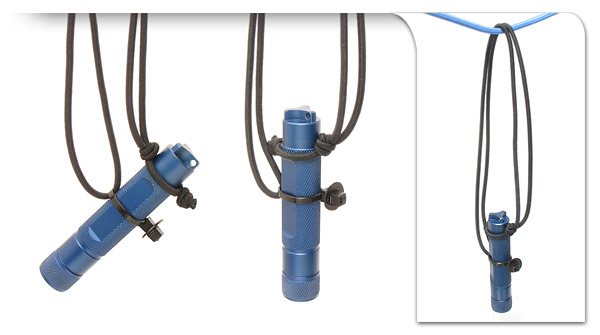 How to make it
Materials :
- 2 cable ties, length 100 mm or 4 inch
- A piece of plastic, size 20 x 20 x 1 mm ,
recommended plastic type is HD-PE*, it is robust, easy to cut and
can be found in different kinds of "household" bottles .
*sometimes HD-PE is labeled as "2" with a recycling triangle around it.

- Elastic cord (shock cord), diameter/size 2,5 mm or 3/32 inch, length: 70 cm.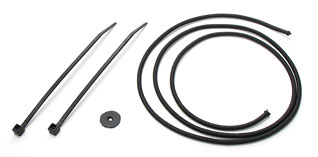 ___________________________________________________________
1.
- Make a 10 mm round plastic "washer" out of the plastic piece and
punch or drill a 2 mm hole in the middle
( make the hole 2,5 mm wide if you use a harder material than HD-PE).



3.
- Make the large loop, adjust the size to fit comfortably on your head.
- tighten the knot hard as shown below to preserve the loop size.
- make the small loop (18 mm, tighten the knot hard in the same way ),
cut off the cord ends and melt them with a lighter (unless you want frayed ends).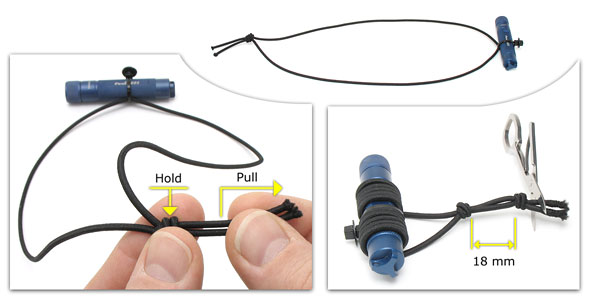 - The lanyard can be wrapped around the flashlight as shown below.