How to make it
Materials :
- A small split ring/ key ring
- Elastic cord (shock cord), diameter/size 2,5 mm or 3/32 inch, length: 40 cm .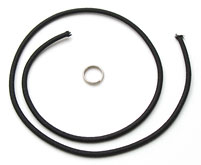 1.
Make the large loop, length 70 mm ( measured when "straightened"),
tighten the knot hard as shown below to preserve the loop size.